Fluke Thermal Imager Selection Guide
Thermal Imagers or Infrared Thermometers are valuable tools that can have a significant impact on your troubleshooting and maintenance productivity, as well as the bottom line, for industrial, electrical and building applications. It is important that you choose the right thermal imager for your application.
Some questions to consider: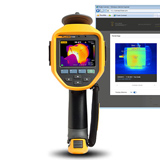 Do I need High Temperature, High Accuracy or both?
Will I be measuring close up or at a distance that may require a special lens?
Do I need to store data taken in the field?
Will I need to generate reports?
Do I need video recording or just still pictures?

This Thermal Imager Selection Guide can help you choose the right tool for your application and budget. Click on the model number to get detailed specifications and pricing.
Compare Features
Models
Expert Series IR Cameras
Professional Series IR Cameras
Performance Series IR Cameras
TiX1000
TiX660
TiX640
TiX560
TiX520
Ti400
Ti300
Ti200
TiS65
TiS60
TiS55
TiS50
TiS45
TiS40
TiS20
TiS10
Detector resolution
1024 x 768, 2048 x 1536, Super Res.
640 x 480, 1280 x 960, Super Res.
640 x 480
320 x 240, 640 x 480, Super Res.
320 x 240, 640 x 480, Super Res.
320 x 240
240 x 180
200 x 150
260 x 195
260 x 195
220 x 165
220 x 165
160 x 120
160 x 120
120 x 90
80 x 60
Spatial resolution
0.6 mRad
0.8 mRad
0.8 mRad
1.31 mRad
1.31 mRad
1.31 mRad
1.75 mRad
2.09 mRad
2.4 mRad
2.4 mRad
2.8 mRad
2.8 mRad
3.9 mRad
3.9 mRad
5.2 mRad
7.8 mRad
Field of view
32.4° x 24.7°
30.9° x 23.1°
30.9° x 23.1°
24° x 17°
24° x 17°
24° x 17°
24° x 17°
24° x 17°
35.7° x 26.8°
35.7° x 26.8°
35.7° x 26.8°
35.7° x 26.8°
35.7° x 26.8°
35.7° x 26.8°
35.7° x 26.8°
35.7° x 26.8°
Distance to Spot
1811:1
1187:1
1187:1
764:1
764:1
764:1
573:1
477:1
417:1
417:1
353:1
353:1
257:1
257:1
193:1
128:1
Thermal sensitivity
50 mK
30 mK
30 mK
50 mK
50 mK
50 mK
50 mK
75 mK
80 mK
80 mk
80 mk
80 mk
90 mK
90 mK
100 mK
150 mK
Temperature range
-40 °C to +1200 °C (-4 °F to +2192°F)1
-40 °C to +1200 °C (-4 °F to +2192°F)1
-40 °C to +1200 °C (-4 °F to +2192°F)
-20 °C to +1200 °C (-4 °F to +2192°F)
-20 °C to +850 °C (-4 °F to +1562°F)
-20 °C to +1200 °C (-4 °F to +2192°F)
-20 °C to +650 °C (-4 °F to +1202°F)
-20 °C to +650 °C (-4 °F to +1202°F)
-20 °C to +550 °C
(–4 °F to 1022 °F)
-20 °C to +550 °C
(–4 °F to 1022 °F)
-20 °C to + 450 °C
(–4 °F to 842 °F)
-20 °C to + 450 °C
(–4 °F to 842 °F)
-20 °C to +350 °C
(–4 °F to 662 °F)
-20 °C to +350 °C
(–4 °F to 662 °F)
-20 °C to +350 °C
(–4 °F to 662 °F)
-20 °C to +250 °C
(–4 °F to 482 °F)
Focus systems
LS, AF, MF, ES
LS, AF, MF, ES
AF, MF, ES
LS, AMF
LS, AMF
LS, AMF
LS, AMF
LS, AMF
MF
FF
MF
FF
MF
FF
FF
FF
Laser distance meter
Yes
Yes
Yes
Yes
Yes
Yes
Yes
Yes
—
—
—
—
—
—
—
—
Image enhancement
IRF, SR
IRF, SR
IRF
IRF, SR, IS
IRF, SR
IRF
IRF
IRF
IRF, PIP
IRF, PIP
IRF, PIP
IRF, PIP
IRF, PIP
IRF, PIP
IRF
—
Annotation
VA, TA
VA, TA
VA, TA
IRPN, VA, TA
IRPN, VA, TA
IRPN, VA, TA
IRPN, VA
IRPN, VA
IRPN, VA
IRPN, VA
IRPN, VA
IRPN, VA
VA
VA
—
—
Standard video rec.
Yes
Yes
Yes
Yes
Yes
Yes
Yes
Yes
Yes
Yes
—
—
—
—
—
—
Radiometric video rec.
Yes
Yes
Yes
Yes
Yes
Yes
Yes
Yes
Yes
Yes
—
—
—
—
—
—
Optional lenses
Yes
Yes
Yes
Yes
Yes
Yes
Yes
Yes
—
—
—
—
—
—
—
—

Compare Specifications
Models
Expert Series Thermal Imager
Professional Series Thermal Imagers
Performance Series Thermal Imagers
TiX1000
TiX660
TiX640
TiX560
TiX520
Ti400
Ti300
Ti200
TiS65
TiS60
TiS55
TiS50
TiS45
TiS40
TiS20
TiS10
IFOV (spatial resolution)
0.6 mRad
0.8 mRad
0.8 mRad
1.31 mRad
1.75 mRad
2.09 mRad
2.4 mRad
2.8 mRad
3.9 mRad
5.2 mRad
7.8mRad
Detector resolution
1024 x 768
(786,432 pixels) Super Resolution mode: 2048 x 1536
(3,145,728 pixels)
640 x 480
(307,200 pixels) Super Resolution mode: 1280 x 960
(1,228,800 pixels)
640 x 480
(307,200 pixels)
320 x 240 (76,800 pixels) Super Resolution mode: 640 x 480 (307,000 pixels)
320 x 240
(76,800 pixels)
240 x 180
(43,200 pixels)
200 x 150
(30,000 pixels)
260 x 195
(50,700 pixels)
220 x 165
(36,300 pixels)
160 x 120
(19,200 pixels)
120 x 90
(10,800 pixels)
80 x 60
(4,800 pixels)
Field of view
32.4° H X 24.7° V
30.9° H x 23.1° V
24° H x 17° V
35.7° H x 26.8° V
Optional lenses
Capture spectacular images close up or from a distance with optional lenses: 2 wide angle, 2 telephoto,
3 macro and 1 standard
Optional telephoto and wide angle lenses available
—
Wireless connectivity
Fluke Connect™ app compatible with Fluke Connect® WiFi SD Card1
Fluke Connect® app compatible. Wireless connectivity to PC, iPhone® and iPad® (iOS 4s and later), Android™ 4.3 and up, and WiFi to LAN1
IR-Fusion®
AutoBlend™ mode, continuous blending
AutoBlend™ mode
5 presets (0 %, 25 %, 50 %, 75 %, 100 %)
3 presets
(0 %, 50 %, 100 %)
–
Picture-In-Picture (PIP)
Picture-in-Picture
5 presets (0 %, 25 % ,50 %, 75 %, 100 %)
–
Focus system
LaserSharp® Auto Focus, auto focus, manual focus, and EverSharp multifocal recording
Auto focus, manual focus, and EverSharp multifocal recording
LaserSharp® Auto Focus with built-in laser distance meter and advanced manual focus
Manual focus
Fixed focus
Manual focus
Fixed focus
Manual focus
Fixed focus
Display
5.6 inch color TFT display, 1280 × 800 pixel resolution, suitable for daylight operation
5.7 inch touchscreen LCD, 640 x 480 pixel resolution
3.5 inch touchscreen LCD, 640 x 480 pixel resolution
3.5 inch (landscape) 320 x 240 LCD
Design
Camcorder with handle, Tiltable LCoS color viewfinder display,
800 × 600 pixel resolution
Camcorder
Ergonomic FlexCam design with a 180 degree articulating lens
Rugged, ergonomic design for one-handed use
Rugged, lightweight, ergonomic design for one-handed use
Thermal sensitivity
≤ 0.05 °C at 30 °C
target temp (50 mK)
≤ 0.03 °C at 30 °C target temp (30 mK)
≤ 0.045 °C at 30 °C
target temp (45 mK); Filter Mode ≤ 0.03
°C at 30 °C target temp (30 mK)
≤ 0.05 °C at 30 °C
target temp (50 mK); Filter Mode ≤ 0.04
°C at 30 °C target temp (40 mK)
≤ 0.05 °C at 30 °C target temp (50 mK)
≤ 0.075 °C at 30 °C target temp
(75 mK)
≤ 0.08 °C at 30 °C target temp (80 mK)
≤ 0.09 °C at 30 °C target temp (90 mK)
≤ 0.10 °C at 30 °C
target temp (100 mK)
≤ 0.15 °C at 30 °C
target temp (150 mK)
Temperature measurement range
-40 °C to +1200 °C (-40 °F to 2192 °F)
High temperature option—request at time of order: up to 2000 °C (3632 °F)
-40 °C to +1200 °C
(-40 °F to +2192 °F)
-20 °C to +1200 °C
(-4 °F to +2192 °F)
-20 °C to +850 °C
(-4 °F to +1562 °F)
-20 °C to +1200 °C
(-4 °F to +2192 °F)
-20 °C to +650 °C (-4 °F to +1202 °F)
-20 °C to +550 °C (–4 °F to 1022 °F)
-20 °C to + 450 °C (–4 °F to 842 °F)
-20 °C to +350 °C (–4 °F to 662 °F)
-20 °C to +350 °C
(–4 °F to 662 °F)
-20 °C to +250 °C
(–4 °F to 482 °F)
Frame rate
30 Hz or 9 Hz versions
60 Hz or 9 Hz versions
9 Hz or 30 Hz versions
9 Hz
9 Hz or 30 Hz versions
9 Hz
9 Hz or 30 Hz versions
9 Hz
Sub-windowing modes available: (add-on at time of order-- sub-windowing options are not available on 9 Hz models)
Option 1:
640 × 480 (60 fps)
Option 2:
384 × 288 (120 fps)
Option 3:
1024 × 96 (240 fps)
Option 1:
384 × 288 (120 fps)
Option 2:
640 × 120 (240 fps)
—
Software
SmartView® software and Fluke Connect®
Voice annotation
Yes
–
Text annotation
Yes
—
Video recording
Standard and radiometric
—
Streaming video (remote display)
Via HDMI; GigE Ethernet available in SmartView® software
Via USB or WiFi
—
Remote control
Yes
Yes
—
Yes
—
Alarms
High temperature, low temperature, and Isotherms
High temperature, low temperature
–
Warranty
Two-years (standard), extended warranties are available