Infrared Thermometer Calibration Services
Your infrared (IR) digital thermometer is as much a safety device as it is a measurement device, as quick response times and noncontact capabilities allow you to minimize time spent around potentially dangerous equipment. Regular IR thermometer calibration ensures that your device is operating at its highest possible level of accuracy. Infrared thermometer calibration is deceivingly complex. With multiple sources of uncertainty, a host of outside considerations, and a variety of specialized equipment required, it's best to leave this job to the pros. Here at Transcat, we offer ISO 9001-compliant temperature calibration services across the U.S., with true SI Unit traceability through NIST, equivalent sources, or physical constants. Seven of our ISO 17025 accredited labs offer IR thermometer calibration services up to 500'°C and our Rochester calibration lab offers an upper range of 1000°C, which gives us the capabilities to offer a variety of custom calibration options based on your specific application.
What's Involved in an Infrared Thermometer Calibration?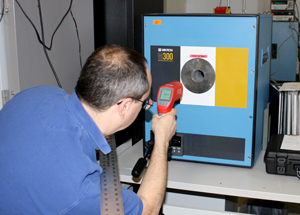 You use your IR thermometer so frequently that it's easy to take it for granted. The reality is that your device is only as accurate as its last calibration, and the calibration is only as accurate as the equipment used in the process. Infrared thermometer calibration requires several specialized instruments, each of which must be professionally calibrated for a high degree of accuracy.
Thermal Radiation Source: This device provides the heat that will be used to calibrate the infrared thermometer, and is itself calibrated to a specific set of standards. Temperature readings are taken at a set of specific points dictated by a governing body or your own specifications
Transfer Standard: This instrument is used to calibrate the heat source, and must be traceable to BIPM through NIST or another national metrological governing body
Ambient Temperature Thermometer: The temperature of the room in which the calibration takes place is an important factor in accounting for uncertainty, so the ambient temperature thermometer must itself be highly-accurate if the resulting IR calibration is to be accurate
Mount: There are several options for mounting the IR thermometer during calibration, but it is critical that the thermometer maintain a constant location in all three dimensions ' any movement in any direction alters the spot-to-distance (S:D) ratio, which is another important part of the calibration calculations
Distance Measurement: The distance between the IR thermometer and the heat source is one half of the S:D ratio, and must be measured by a precisely calibrated device if the IR calibration itself is to be accurate
Transcat Offers Expert-Level IR Thermometer Calibrations
We provide high-quality calibration services for a broad array of IR thermometers, including Fluke IR thermometers from the VT04 and 62 series, as well as Raytek, Keysight/Agilent, and Extech IR thermometers
We can calibrate infrared thermometers to OEM specifications or your preferred specifications. If you're not sure what kind of calibration you need, our highly trained staff can help you design a custom calibration specification tailored to your application
Our extensive industrial calibration capabilities and wide scope of accreditation allow us to help you consolidate your calibration needs in one place. We calibrate a wide variety of instruments across multiple industries, with services tailored to your specific needs
Get the Best Temperature Calibration Services Today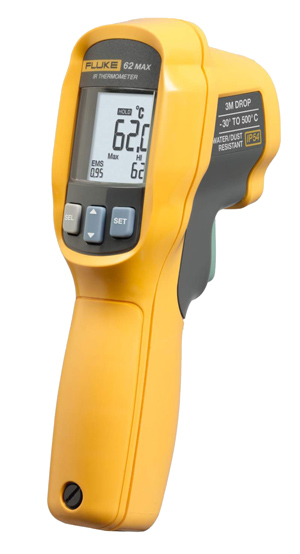 For more information on Transcat's infrared thermometer calibration capabilities, please use our Live Chat system, which is located on the right side of the page, fill out our Request a Quote form, contact us, or call Transcat directly at 800-828-1470.