Thermal Camera Rental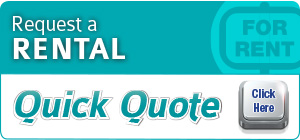 The thermal imaging market has seen a rapid innovation rate in the past few years. As the critical component, the thermal arrays, have become less expensive to manufacture and more widely available, several new manufacturers have developed new products to serve it and units have become a lot more affordable to buy and rent.
Thermal Array Resolution in Thermal Imagers
Though prices have decreased in the past few years, the main differentiator between different thermal imagers continues to be resolution of the unit's thermal array. Lower resolution units show a less well-defined picture with less detail, which may be enough for some applications, and not for others. High-resolution units, on the other hand, tend to be larger in size and heavier, and produce larger files. They also tend to come with bigger batteries, allowing for longer usage before the battery is empty.
Differences Among Thermal Imagers
Other differences between thermal imagers are more functionality-related.
Some units are capable of mashing together the real visual image and the thermal overlay, which allows the user to see exactly what was measured.
Some manufacturers (Fluke, notably) use a proprietary image format that contains more data about each pixel than a flat .jpg format, but needs to be read by special, free software. FLIR uses a richer .jpg format to store the data and fuse the real-world image with the thermal image.
Some higher-resolution devices enable wireless image transmission to tablets, phones, or computers. FLIR devices use the BlueTooth protocol while Fluke uses a proprietary FC / Wireless / BLE protocol.
CorDEX thermal imagers were developed to be intrinsically safe, allowing for use in areas with high risk of ignition due to combustion dangers. CorDEX TC7000 is ATEX/IECEx Certified for Zone 1, 2, 21, 22 & M2 explosive areas.
Milwaukee thermal imagers use the same batteries as their market-leading power tools, allowing for easier recharging and swapping.
Manufacturers still offer different general-purpose and building-inspection units. Building-inspection units come with a narrower range and higher accuracy.
Finally, Fluke is offering a special category of visual IR thermometers that is capable of overlaying several IR measurements over the visual image. Since this unit does not contain a thermal array, it cannot be called a thermal imager.
Transcat rents and sells equipment of higher and lower resolutions from different manufacturers.
When in doubt - call Transcat, chat with us or click here to request a Rental Quick Quote or ask us a question.