Keysight/Agilent Signal and Waveform Generator Calibrations
Transcat is a leading provider of NIST-traceable calibrations of Keysight and Agilent Signal and Waveform Generators. Our premier RF and Microwave calibration capabilities verify your generator performance so you can test, maintain and design electronic equipment and systems. Whether you choose an onsite or lab service, you can get a Keysight Technologies calibration for your waveform or signal generator, and be ready to: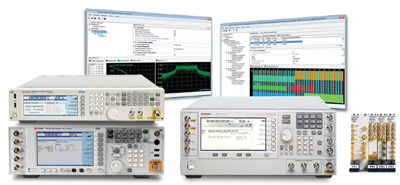 Perform accurate waveform analysis that is critical to quality assurance
Test electrical and wireless communications equipment, and troubleshoot issues
Use generators with verified reliability and accuracy, while ensuring consistent and safe performance
Create stable low distortion sine waves, plus square waves with fast rise and fall
Confidently characterize components and designs
Know your go-to generator is outputting the signals required for demanding applications
Establish a schedule of professional equipment calibrations for all your Keysight devices
Calibrating Keysight Waveform Generators
We calibrate Keysight /Agilent equipment that offers wide-ranging signal generation capabilities, including:
The 33600A Series of waveform generators: 1- and 2-channel Trueform models
Agilent 33210A 10 MHz Function/Arbitrary Waveform Generators
The 33500B Series waveform generators with revolutionary signal generation
Keysight's MXG X-Series of RF Analog Signal generators, like the N5181B
Why Choose a Transcat RF Calibration?
Capabilities for RF signal, function, sweep function, arbitrary function, and universal waveform generators
Highly accurate services also covering Keysight/Agilent multimeters, oscilloscopes and other electronic testers
NIST-traceable and ISO/IEC 17025-accredited calibration methods designed by metrology experts
Quality electronic equipment calibrations in each of our labs across the U.S. and Canada

Contact Transcat today for a calibration quote on high-performance devices from Keysight Technologies!