Manometer Calibration Lab Services
As a professional, you'd never agree to test pressure switches or monitor gas flow rates with an inaccurate instrument. That's why Transcat, a globally recognized supplier of calibration lab services for a wide range of test tool equipment, provides manometer calibration services that cross a broad range of industries and applications, including HVAC, engineering, manufacturing, research, and transportation. Our comprehensive, accredited manometer calibration expertise covers virtually every instrument, model, and manufacturer, all of which is part of our comprehensive pressure calibration service offerings.
Basic and Digital Manometers
The basic manometer is a U-shaped tube that measures pressure by the height of the liquid it will support. While most traditional U-form manometers don't normally require recalibration, today's digital manometers are built with various types of absolute, vacuum, gauge, or differential pressure sensors. These systems also feature a microprocessor, as well as outputs for process control and data transfer, which often means that digital manometer tools require regular calibration.
Why Choose a Leader in Manometer Calibration?
Transcat is a premier calibration lab services provider for all types of pressure-sensing devices, including standard and high-accuracy digital manometers used for field calibration. Our unwavering commitment to accurate, quality-driven services might be reason enough to choose Transcat, but we also offer: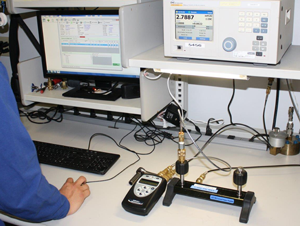 Absolute, gage, and low-pressure vacuum capabilities that are fully ISO/IEC 17025-2005 accredited
ISO-9001 calibration compliance for pressure capabilities, with service conducted by highly skilled technicians according to stringent processes designed by industry experts
A sterling record in accredited calibration services for all types of manometers, including calibration of instruments manufactured by Druck, Dwyer, Extech, Meriam, and a variety of other brands
The critical availability of high-pressure reference level laboratory standards up to 72,500 PSI, and highly accurate low-pressure capabilities down to -60 in H20 in our Houston calibration services laboratory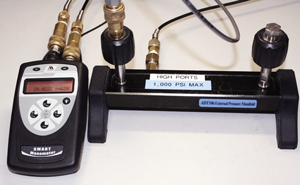 Manage Pressure with Accredited Capabilities
Transcat's pressure and vacuum services are offered in each of our North American calibration labs. In addition to manometers, we calibrate transmitters, deadweight testers, pressure gauges, and a range of devices, as we provide:
NIST-traceable calibrations for hydraulic and pneumatic pressure-measurement devices
The flexibility to offer lab calibration, onsite calibration services, or in-process calibrations. Customized calibrations can be tailored to your exact application
Uniformity in processes that result in consistent calibrations and unparalleled quality assurances for every customer, in every lab
The business-friendly CalTrack Online Management System that allows document access whenever and wherever it's required
Transcat Supports Safety and Accuracy
Hostile environments take a toll on your manometer and compromise operational integrity. With our pressure calibration services, we can precision-calibrate heavy-duty manometers with data logging instruments that report wet/wet differential pressure, handheld devices for air and combustible gas service, manometers that calibrate other pressure instruments, and additional specialized or full- feature instrumentation. Transcat pressure expertise means you always have access to diligently monitored quality management systems that actually exceed ISO requirements. We want your safety record to be unblemished and operations to flow smoothly with accurately calibrated pressure instruments.
Trusted Expertise in Manometer Calibration
For more information on ordering or calibrating manometers, please use our Live Chat system, which is located on the right side of the page, our easy-to-use Request a Quote form, contact us, or call Transcat directly at 800-828-1470.