Deadweight Tester Calibration
Transcat's North American network of ISO 17025 accredited calibration laboratories conducts deadweight tester calibrations to superior standards, ensuring that output pressures are generated and measurements are reported with greater precision. At Transcat, we understand that you need a deadweight tester capable of calibrating precision pressure devices based on range and accuracy, and you also need 100% reliability. As part of our comprehensive pressure calibration services, we assess a variety of pneumatic and hydraulic devices that offer critical pressure testing solutions. Safety and performance are the rewards for maintaining a proactive calibration program for your deadweight tester (DWT).
Transcat Calibrates All Types of DWTs for Accuracy
Hydraulic and pneumatic deadweight testers
Precision testers requiring reference level calibrations up to 72,500 PSI
Leading models from Ametek, Ashcroft, Fluke, and DH-Budenberg/Mensor
DWTs specially engineered for manufacturing and laboratory applications
Units that vary in pressure range, repeatability, accuracy, and other factors
The Benefits of Choosing Transcat for Pressure Calibration
Industry-leading pressure services are performed in our ISO 17025-accredited calibration labs. High- and low-pressure reference-level laboratory standards are available in our Houston calibration lab
Our laboratories are strategically located to deliver metrology expertise close to home. Pick-up and drop-offs are available locally
With our proprietary calibration management software, you have visibility to historical calibration data for your fleet of instruments
Our standardized processes ensure you experience the same consistent datasheets and measurement results, no matter which lab you choose
Transcat calibration options can be flexible. We customize onsite and in-process programs!
We continuously enhance training to provide the pinnacle in pressure calibration service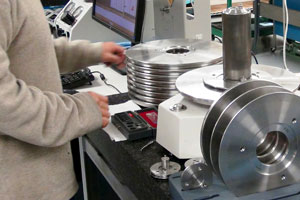 Partial List of Instruments Calibrated
Ametek RK Series
Ametek T Series
Ametek PK Series
Ametek HK Series
Fluke Calibration P5500 Series
Ashcroft 1305D
Ruska All models
Pressurements All models
SI Pressure All models
Chandler All models
Cosa All models
How Often Should I Send My Deadweight Tester In?
If your deadweight tester has proven to be a valuable pressure calibration standard, you'll want to continue counting on its stability and accuracy. The proper recalibration of a dead weight tester delivers assurance of accurate measurements, while sharing detailed performance data. The calibration schedule will be dictated by the manufacturer, but may also be affected by working environments. A deadweight tester in a clean lab may be sent in less often than the one operating in an industrial environment. At Transcat, our skilled deadweight tester calibrations can determine if correction is required. Both our onsite and in-lab services are conducted under rigorous quality standards and generate certifications that are traceable to the NIST.
Ensure Accuracy in Deadweight Calibration
For more information on DWT calibration services, please use our Live Chat system, which is located on the right side of the page, our Request a Quote form, contact us, or call Transcat directly at 800-828-1470.