Fluke Multimeter Selection Guide
How to choose the best DMM for your job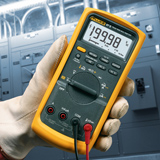 Choosing the right Fluke digital multimeter (DMM) requires thinking about what you'll be using it for. Evaluate your basic measurement needs and job requirements and then take a look at special features/functions built into many multimeters. Think about whether you need to do basic measurements, or if you need the more advanced troubleshooting options offered by special features.
Factors to Consider:
Your work environment (voltage level, types of equipment, types of measurements, applications)
Specialty features/functions (capacitance, frequency, temperature, non-contact voltage, low impedance mode, min-max record, data logging, trending)
Resolution and accuracy (6,000; 20,000; or 50,000 count resolution)
Your quality program (Fluke Multimeters from Transcat can be calibrated before shipment to arrive at your facility with a fresh fully accredited calibration certificate)
Safety
The increased occurrence and levels of transient over voltages in today's power systems have given rise to more stringent safety standards for electrical measurement equipment. Transients that ride on top of power sources (mains, feeder or branch circuits) can trigger a sequence of events that may lead to serious injury. Test equipment must be designed to protect people working in this high-voltage, high-current environment.
Models
Advanced meters
Wireless meters
General purpose
Compact meters
Specialty meters

87 V

289

287

233

3000 FC

179

77 IV

117

116

115

114

113

28 II

27 II

28IIEX

Basic Features
Counts
20000
50000
50000
6000
6000
6000
6000
6000
6000
6000
6000
6000
20000
6000
20000
True-rms readings
ac
ac+dc
ac+dc
ac
ac
ac
ac
ac
ac
ac
ac
ac
ac
Basic dc accuracy
0.05%
0.03%
0.03%
0.25%
0.09%
0.09%
0.30%
0.50%
0.50%
0.50%
0.50%
0.50%
0.05%
0.10%
0.05%
Wide bandwidth
20 kHz
100 kHz
100 kHz
20 kHz
30 kHz
20kHz
Auto/manual ranging
•/•
•/•
•/•
•/•
•/•
•/•
•/•
•/•
•/•
•/•
•/•
•/•
•/•
•/•
•/•
Digits
4-1/2
4-1/2
4-1/2
3-1/2
3-1/2
3-1/2
3-1/2
3-1/2
3-1/2
3-1/2
3-1/2
3-1/2
3-1/2
3-1/2
4-1/2
ATEX II 2G Eex ia IICT4 safety rating Zone 1 and Zone 2
•
Measurements

87 V

289

287

233

3000 FC

179

77 IV

117

116

115

114

113

28 II

27 II

28IIEX

Voltage ac/dc
1000 V
1000 V
1000 V
1000 V
1000 V
1000 V
1000 V
600 V
600 V
600 V
600 V
600 V
1000 V
1000 V
1000 V
Current ac/dc
10 A
10 A
10 A
10 A
400 mA
10 A
10 A
10 A
600 µA
10 A
10 A
10 A
10 A
Resistance
50 MΩ
500 MΩ
500 MΩ
40 MΩ
50 MΩ
50 MΩ
50 MΩ
40 MΩ
40 MΩ
40 MΩ
40 MΩ
60 kΩ
50 MΩ
50 MΩ
50 MΩ
Frequency
200 kHz
1 MHz
1 MHz
50 kHz
100 kHz
100 kHz
100 kHz
100 kHz
100 kHz
100 kHz
200 kHz
200 kHz
200 kHz
Capacitance
10,000 µF
50,000 µF
50,000 µF
10,000 µF
10,000 µF
10,000 µF
10,000 µF
10,000 µF
10,000 µF
10,000 µF
10,000 µF
10,000 µF
10,000 µF
10,000 µF
Temperature
(+) 1090 °C
(+) 1350 °C
(+) 1350 °C
(+) 400 °C
(+) 400 °C
(+) 400 °C
(+) 1090 °C
(+) 1090 °C
dB
60 dB
60 dB
Conductance
50 nS
50 nS
50 nS
60 nS
60 nS
60 nS
Duty cycle/pulse width
•/–
•/•
•/•
•/–
•/–
•/–
Continuity/diode test
•
•
•
•
•
•
•
•
•
•
•
•
•
•
•
Motor Drive (ASD) Measurements
•
•
•
•
VoltAlert™, non-contact voltage detection
•
VCHEK™
•
LoZ: low input impedance
•
•
•
•
•
Lo Ohms
•
Microamps
•
•
•
•
•
•
•
Display

87 V

289

287

233

3000 FC

179

77 IV

117

116

115

114

113

28 II

27 II

28IIEX

Wireless capabilities
Removable Wireless Display
Remote wireless readings. Connect to smart phone.
Dot matrix display
•
•
•
Dual display
•
•
•
Analog bargraph
•
•
•
•
•
•
•
•
•
•
•
•
•
Backlight
Two level
Two level
Two level
•
•
•
•
•
•
•
•
•
Two level
Two level
Two level
Graphical trend display
•
•
Diagnostics and data

87 V

289

287

233

3000 FC

179

77 IV

117

116

115

114

113

28 II

27 II

28IIEX

Min Max recording/with time stamp
•/–
•/•
•/•
•/–
•/–
•/–
•/–
•/–
•/–
•/–
•/–
•/–
•/–
•/–
•/–
Fast Min Max
250 µs
250 µs
250 µs
250 µs
250 µs
Display Hold/Auto (Touch) Hold
•/•
•/•
•/•
•/•
•/•
•/•
•/•
•/–
•/–
•/–
•/–
•/–
•/•

•/•
•/•
Relative reference
•
•
•
•
•
•
Stand alone logging
•
•
Trend Capture
•
•
Readings memories
10,000
10,000
USB interface
•
•
Other features

87 V

289

287

233

3000 FC

179

77 IV

117

116

115

114

113

28 II

27 II

28IIEX

Automatic selection, ac/dcvolts
•
•
•
•
Real time clock
•
•
Overmolded case, integrated holster
•
•
•
•
•
•
Removable holster
•
•
•
•
•
•
•
•
•
Closed case calibration
•
•
•
•
•
•
•
•
•
•
•
•
•
•
•
Separate battery/fuse access
•/–
•/•
•/•
•
•
•
•
•
•
•
•
•
•/•
·
•/–
Completely sealed/ watertight
•
•
•
Automatic power off
•
•
•
•
•
•
•
•
•
•
•
•
•
•
•
Low battery indication
•
•
•
•
•
•
•
•
•
•
•
•
•
•
•
Operating temperature range
-20 to +55 °C
-20 to +55 °C
-20 to +55 °C
-10 to +50 °C
-10 to +50 °C
-10 to +50 °C
-10 to +50 °C
-10 to +50 °C
-10 to +50 °C
-10 to +50 °C
-10 to +50 °C
-10 to +50 °C
-40 to +55 °C
-40 to +55 °C
-15 to +50 °C
Warranty and electrical safety

87 V

289

287

233

3000 FC

179

77 IV

117

116

115

114

113

28 II

27 II

28IIEX

Warranty (years)
Lifetime
Lifetime
Lifetime
3
3
Lifetime
Lifetime
3
3
3
3
3
Lifetime
Lifetime
3
Input alert
•
•
•
•
•
•
Dangerous voltage indication
•
•
•
•
•
•
•
•
•
•
•
•
•
•
•
IP Rating
IP30
IP42
IP42
IP54
IP42
IP42
IP42
IP42
IP42
IP67
IP67
IP67
EN61010-1 CAT III
1000 V
1000 V
1000 V
1000 V
1000 V
1000 V
1000 V
600 V
600 V
600 V
600 V
1000 V
1000 V
1000 V
EN61010-1 CAT IV
600 V
600 V
600 V
600 V
600 V
600 V
600 V
600 V
600 V
600 V
600 V