Keysight Oscilloscope Selection Guide
Keysight (formerly Agilent) Oscilloscopes: from extreme value to extreme performance.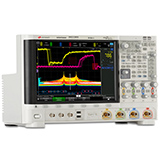 Whether you need the fastest real-time oscilloscope on earth with the highest measurement accuracy anywhere, the only capacitive touch screen oscilloscopes, or something a little more basic, Keysight oscilloscopes outperform in every category. Keysight Technologies is working continually to bring you oscilloscopes with breakthrough capabilities that help you solve your toughest measurement challenges. Use our quick Keysight Oscilloscope Selection Guide to choose the oscilloscope series that best fits your requirements and budget.

To browse Transcat's complete inventory of Keysight Oscilloscopes, check out the Keysight Oscilloscope page in our new Keysight Store.
| | | | | | | | |
| --- | --- | --- | --- | --- | --- | --- | --- |
| Product Series | U1600B | 1000A/B | 1000X | 2000X | 3000T | 4000X | 6000X |
| Starting At | $1,390 | $520 | $448 | $1,285 | $3,350 | $5,622 | $14,929 |
| Bandwidth | 20 MHz to 200 MHz | 50 MHz to 200 MHz | 50 MHz to 100 MHz | 70 MHz to 200 MHz | 100 MHz to 1 GHz | 200 MHz to 1.5 GHz | 1 GHz to 6 GHz |
| Sampling Rate | 200 KSa/s to 2 GSa/s | 1 GSa/S to 2 GSa/S | up to 2 GSa/S | up to 4 GSa/s | up to 5 GSa/s | up to 5 GSa/s | up to 20 GSa/S |
| Analog Channels | 2 | 2 or 4 | 2 | 2 or 4 | 2 or 4 | 2 or 4 | 2 or 4 |
| Digital Channels | n/a | n/a | 1 | 8 | 16 | 16 | 16 |
| Memory Depth | 125 kpts to 2 Mpts | 16 to 20 kpts | 1Mpts | 100 kpts | 4 Mpts | 4 Mpts | 4 Mpts |
| Display | 5.7 inch display | 5.7 inch display | 7 inch display | 8.5 inch display | 8.5 inch touch display | 12.1 inch touch display | 12.1 inch touch display |
| Type | Handheld | Bench/Portable | Bench/Portable | Bench/Portable | Bench/Portable | Bench/Portable | Bench/Portable |
| Description | The Keysight U1600 series handheld digital oscilloscopes contains full featured handheld oscilloscopes that offer maximum versatility for current and future needs. | Lowest priced economy portable oscilloscopes engineered to give you more scope than you thought you could afford. | Engineered to give you quality, industry-proven technology at unbelievably low prices. | Oscilloscopes redefined: Breakthrough technology delivers more scope for the same budget. | The 3000T Series sports a capacitive touch screen, a user interface designed for touch, and the exclusive Zone touch trigger, all combined with an industry-leading update rate. | Oscilloscopes that see everything, trigger on anything, have the ease-of-use of a tablet device and grow with your projects. | The InfiniiVision 6000 X-Series has 450,000 waveforms/sec update rate, a 12.1-inch capacitive touch display, and full upgradability. Add bandwidth options to upgrade this scope up to 6 GHz. |