Fluke ScopeMeter® Selection Guide
ScopeMeter® 190 Series II
Speed, performance and analysis power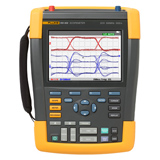 For the more demanding applications, the Fluke ScopeMeter 190 Series II high-performance oscilloscopes offer specifications usually found on top-end bench instruments. With up to 500 MHz bandwidth, 5 GS/s real-time sampling and a deep memory of 10,000 points per input, they're ideal for engineers who need the full capabilities of a high-performance oscilloscope in a handheld, battery powered instrument.
ScopeMeter® 120 Series:
As simple as one-two-three
The compact ScopeMeter 120 Series is the rugged solution for industrial troubleshooting and installation applications. It's a truly integrated test tool, with oscilloscope, multimeter and "paperless" recorder in one affordable, easy-to -use instrument. Find answers fast to problems in machinery, instrumentation, control and power systems.
Models
120 Series
190 Series II ScopeMeter® Test Tools

123

124

125

190-062

190-102

190-202

190-104

190-204

190-504

Features
Bandwidth (MHz)
20
40
40
60
100
200
100
200
500
Max Real-Time Sample Rate
25 MS/s
625 MS/s for
each channel
1.25 GS/s for
each channel
2.5 GS/s (2ch)
for each channel
1.25 GS/s for
each channel
2.5 GS/s (2ch)
1.25 GS/s (4ch)
5 GS/s (single channel) or
1.25GS/s per channel
Input Sensitivity
5 mv/div to 50 V/div
2 mV/div to 100 V/div, plus variable attenuation
Display
Monochrome
153 mm (6 in) full-color LCD with LED backlight
Record Length
512 points (min/max pairs)
Up to 10,000 samples per channel
Scope Inputs
2
2
4
Dedicated DMM
2
1
Waveform Mathematics
One mathematical operation on any 2 input channels: add/subtract/multiply; X-Y-mode. Frequency Spectrum using FFT analysis
Zoom
Ranges from full record overview to zoom in up to sample level, at any record length
Dual Input Trendplot™
•
•
•
•
•
•
Four Input Trendplot™
•
•
•
ScopeRecord Mode
•
•
•
•
•
•
Automatic Capture & Replay Mode
•
•
•
•
•
•
Pass/Fail Testing
•
•
•
•
•
•
Waveform Compare
•
•
•
•
•
•
Cursors
•
•
•
•
•
•
•
•
Zoom
•
•
•
•
•
•
Bus Health Test Mode
•
Advanced Power Measurements
•
•
•
•
•
•
•
Independent Floating Isolated Inputs
•
•
•
•
•
•
EN61010-1 CAT III Safety Rating
600 V
1000 V
EN61010-1 CAT IV Safety Rating
-
-
-
600 V
Battery
7 hr NiMH
7 hr NiMH
7 hr NiMH
4 hr Li-Ion
(8 hr Opt)
4 hr Li-Ion
(8 hr Opt)
7 hr Li-Ion
7 hr Li-Ion
7 hr Li-Ion
7 hr Li-Ion
Optical RS-232
•
•
•
Isolated USB
Opt
Opt
Opt
•
•
•
•
•
•
Isolated USB Memory
•
•
•
•
•
•