Ametek - Jofra PTC Series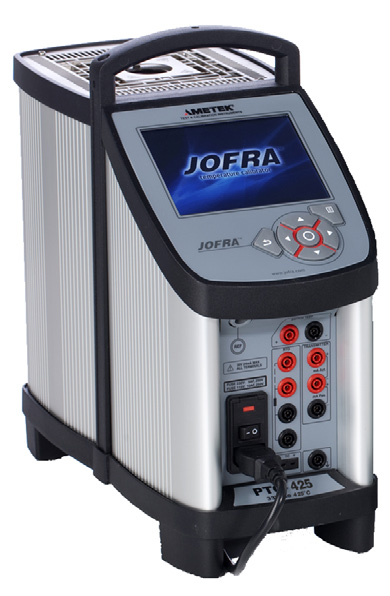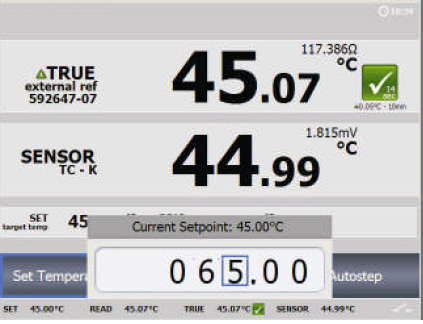 PTC Series Temperature Calibrators
The PTC Series are intuitive, fast, and portable temperature calibrators that match lab features such as wide temperature range, high accuracy, stability, and speed combined with the long lasting quality that is key for an industriel calibrator.
The large color display is easy-to-read and provides icons and information regarding the status of the calibrator and the calibration in process. Popular functions like automatic switch test and auto stepping are available with special one-key-one-function buttons.
The PTC series temperature calibrators features an active dual zone temperature control providing temperature homogeneity in the well.
Temperature range from -90 to 660°C (-130 to 1220°F) with 5 models
Accuracy to ± 0.06°C and Stability to ± 0.01°C
Lightweight and easy to carry
Multi-hole and/or insert kits
Inputs for thermocouple calibration
MVI circuitry ensures stability despite mains supply variations
Rugged, portable temperature calibrator
JOFRA offers 5 different models of the PTC temperature calibrator. For more information about each model click on the datasheet below.
Is the PTC Series the Right Choice for You?
JOFRA offers a large range of dry block and dry-block/liquid bath combination temperature calibrators in different price ranges depending on your specific need. Below is an overview of what each JOFRA series can offer. Click on the JOFRA series that is right for you and dive into the detailed information about each model in the series. For a quick overview of all models and specifications click here.
Page
You're currently reading page

1