Fluke Calibration Services
Transcat calibrates the full line of trusted Fluke tools that are built to help you minimize risks and maximize uptime. We conduct Fluke calibrations with high accuracy so you can be confident in the performance of your rugged test instruments, even in the most demanding environments. Our lab teams are specially trained to calibrate Fluke test, measurement and monitoring devices, which are used in electrical, industrial, process, and calibration applications.
We understand that you choose your Fluke tools for their safety, accuracy, and quality. Regular calibrations of these tools by our industry-leading, accredited calibration labs will help to ensure they maintain their reliability and function according to specifications. Our skilled technicians stand ready to calibrate your Fluke multimeters, oscilloscopes, clamp meters, multifunction process calibrators, network tools and other critical equipment.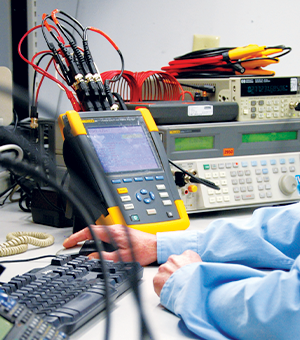 Calibrating Fluke Multimeters for Your Applications
Transcat's extensive calibration capabilities cover the disciplines of electrical, temperature, pressure, dimensional, torque, and RF. We'll service your device according to its calibration standard, using processes designed by world-class experts. We also operate a multimeter reference standard lab for calibrating Fluke meters. Each of our ISO/IEC 17025 accredited labs will:
Ensure your instruments are providing accurate and repeatable measurements.
Provide calibration traceability and documented reliability for your devices.
Offer you Fluke service options to meet your applications and business requirements.
Use consistent processes and advanced equipment as we support a wide range of industries.
Deliver fast turnarounds on precision Fluke Calibration and Fluke Process instruments.
We want you to be confident in your quality assurance programs and the integrity of your manufactured products. By following stringent lab procedures, we can verify the performance of your Fluke tools for greater protection against costly downtime or safety issues.
Request a Fluke Service Quote
For more information on the repair or calibration of Fluke equipment, please use our Live Chat system located on the right side of the page, Request a Quote form, contact us, or call Transcat directly at 800-828-1470.