Fluke 5522A Rental: Lab Standard + Accredited Calibration
Now Available!
Renting Fluke 5522 Calibration Lab Standards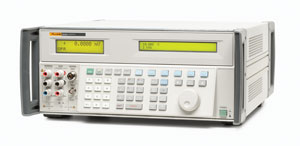 Is your Fluke calibrator in for its scheduled calibration or an unscheduled repair?
Many calibration labs have a firm schedule and a contingency plan for when their lab standards (such as Fluke 5720A, Fluke 5522A, Fluke 5502A and similar units) need to be sent to calibration. What if the calibration takes longer than expected and/or the unit is delayed for repair? Often, such a situation imposes quite a stress on the lab's operations and scheduling.
Related content:
Transcat offers 10-day turn-around time for accredited Fluke 5522A, 5502A and other lab standard calibrations.
View Our Reference Electrical Calibrations Services Page
Do you need another asset to keep up with the volume?
If you require another calibration asset, Transcat keeps rental Fluke 5522s ready to be shipped at a few hours notice. Our units are always calibrated with accredited calibration certificates from Transcat, so you can put them into service a day or two after you place the order.
Do you need an accredited cert with uncertainties to be fully operational?
Transcat is the only rental provider of lab standards who is also fully accredited by NVLAP to calibrate them. This means we can keep units ready to ship with accredited calibration certificates, and you do not have to incur a four week delay for an OEM calibration at Fluke. It also means that we can calibrate units quickly after they come back from a rental, and get them ready to ship out again.
Most importantly, you can now use a unit in your lab with a fully accredited certification, allowing you to continue to provide accredited calibrations to your own customers.
Do you need a long-term rental or a lease?
Transcat Rentals offers both long-term rental discounts and lease options. Long-term discounts have to be agreed-to in advance of the start of the rental, while lease options are subject to availability. Please request a quote if you are interested in either.
Fluke Calibration 5522A Multi-Product Calibrator Description and Specs
The 5522A is a versatile calibration workhorse that is well suited to frequent transportation requirements. It allows users to calibrate resistance, voltage, current, pressure (with Fluke 700 or 7500 series modules) and more, and offers both 600 & 1.1 GHz oscilloscope options and power quality options. Transcat currently offers plain units and those with the 1.1 GHz options. It can be fully automated by using Fluke Calibration's METCAL software.
Fluke 5522A Features
Calibrates a wide variety of electrical test equipment
Robust protection circuits prevent costly damage from operator error
Resistance calibrator, voltage calibrator, current calibrator and more
Redesigned carrying handles make the 5522A easy to transport
Rugged carrying case with built-in handles and wheels and removable front/rear access doors for in-situ calibration in almost any environment
Remarkably affordable
Instruments Calibratable with the Fluke 5522A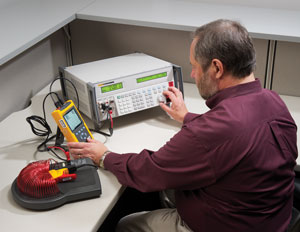 Handheld and bench meters (analog and digital) up to 6 ½ digits
Current clamps and clamp meters
Thermocouples and RTDs
Process calibrators
Data loggers
Strip and chart recorders
Watt meters
Power harmonics analyzers
Panel meters
Graphical multimeters
Power quality analyzers (with option)
Analog or digital handheld and bench oscilloscopes to 600 MHz or 1.1 GHz (with options)
…and more, including pressure gauges and transducers and three-phase power meters
View Fluke 5522A Extended Specifications
Can I rent the Fluke 5502A, the 5730A or the 5720A?

The units we rent at this time are Fluke 5522As. There is a great deal of overlap between the capabilities of the 5502A and the 5522A. Please view the Fluke 5502A and Fluke 5730A spec sheet for comparison.