Ring Gage Calibration Services for Thread, Go / No-Go & Master Ring Gages
Routine ring gage / gauge calibrations can be instrumental in the accurate detection of manufacturing defects. With a high level of accuracy, Transcat calibrates thread, go, no-go and master ring gages that confirm parts size and roundness, as well as those that serve as a reference. Our ring gage calibration services include gages in every tolerance grade used for master, working or setting applications. We provide ISO accredited, superior quality calibration processes for industrial gaging instruments. Our capabilities include the calibration of go-ring gages that verify the acceptability of an outer diameter or the no-go gauge that performs comparative production gaging. Transcat's comprehensive dimensional calibration capabilities encompass a vast number of gaging tools, including all types of plug, pin, and ring gages from the full range of manufacturers.
Ring Gage Calibration Traceability through NIST
We understand that adhering to a regular schedule of Ring Gage Calibration is part of your commitment to instrument integrity. That's why our calibrations are performed according to stringent standards in rigorously controlled environments by experts in the science of metrology. We streamline gage calibration and performance verification, providing SI-traceable, precision calibrations through NIST. Transcat takes a systematic approach to calibrating according to manufacturer standard specifications or your customized applications.
We calibrate all types of ring, thread ring gages, and master ring gages in various classes and metric/inch dimensions to ensure accuracy and repeatability. Calibration can include comprehensive visual inspections to identify nicks and damage.
Our calibrations cover ring gages from a full range of manufacturers, including individual rings and sets from Vermont Gage, Glastonbury Gage, Meyer Gage and more.
The ISO/IEC 17025-accredited calibrations are performed with complete dedication to reliability in measurement and uncertainty control.
Transcat's Dayton Calibration Lab and Rochester Calibration Lab deliver dimensional reference level calibrations for ring gages, master setting plugs, gage blocks and other instruments.
Why Calibrate a Ring Gage / Gauge?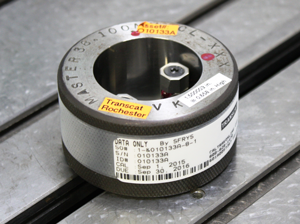 A ring gage that has regular contact with workpieces will usually need more frequent calibrations than the master ring gage used for indirect gaging. Our accredited labs perform calibrations for ring gages according to the schedules their duties and applications demand. We can quickly return your gages to service and have them back to ensuring parts consistency sooner. You can trust every lab within our extensive North American network to bring talented metrology technicians and cutting edge equipment to your calibration needs. If you demand daily parts contact from your gages, calibration should be on your schedule.
Transcat's Dimensional Expertise
Transcat is at the forefront of our industry in measurement tool calibration. Our capabilities mean you only need one provider to manage the accuracy of your dimensional inventory, as we offer:
Every type of gage calibration: ring, plug, pin, feeler, bore and more
Length measurement tool capabilities that fully cover micrometer calibration, calipers and rulers, as well as optics-based equipment
SI-traceable calibrations for most every dimensional hand tool manufactured
Geometric Dimensioning & Tolerancing (GD&T) and Custom Dimensional Analysis is available through our Fort Wayne and Toronto laboratories
Quality in Ring Gage Calibrating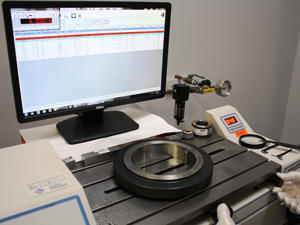 For more information on calibrating ring gages, please use our Live Chat system located on the right side of the page, Request a Quote form, contact us,or call Transcat directly at 800-828-1470.