Pin Gage Calibration Services
Whether you need a small or a large number of pin gages inspected, a key element of your industrial quality control program should be regularly scheduled pin gage calibrations. Transcat has the exclusive dimensional calibration service expertise needed to perform pin gage calibrations with the accuracy that these precision-measuring tools require. As a worldwide metrology and calibration service leader, Transcat calibrates pin gages to ensure accuracy in a range of environments, like automotive factories and manufacturing quality control and inspection applications. We want you to have confidence in the calibrated pin gages you use to determine parts acceptance and support in-tolerance production.
Gage Calibration with Transcat
Transcat can identify and address inaccuracy using methodical inspections and gage calibration processes designed by world-class metrology experts. Our leading dimensional instrument capabilities are ISO/IEC 17025 accredited, and we've earned the widest scope of calibration accreditation in the industries we serve, while our internally monitored and externally audited quality management systems exceed ISO/IEC 17025 requirements. Transcat's unparalleled expertise offers:
Calibration of all pin gages in each tolerance class, including plus or minus sets, libraries, and go/no-go assemblies
Service for a broad scope manufacturers, such as Starrett, Meyer Gage, Vermont Gage Glastonbury Gage, and more
Comprehensive, accredited gaging capabilities that also cover all types of gages, including plug, ring and thread
Dimensional calibration services with the lowest level of measurement uncertainty performed in accredited dimensional calibration laboratories with stringently controlled environments
Reference-level dimensional capabilities for gage blocks, ring gages, and master setting plugs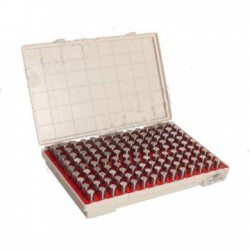 Improved Inspection with Transcat Gage Calibrations
Machinists, engineers, and inspectors rely on Transcat's accuracy in quality assurance test tool calibrations. Our knowledgeable technicians are authorities in their fields and fully prepared to verify the dimensions, condition, and reliability of pin and plug gages to ensure that they meet tolerances. Whether you choose lab or in-process or onsite calibration services, you'll experience our commitment to efficient, rapid turnarounds on gage pin calibrations. Our North American lab network delivers broad coverage to reach more customers who have critical calibration requirements, while our onsite services provide enhanced convenience and can significantly shorten the time instruments are out of service.
Calibration coverage for most every type of hard gaging
NIST-traceable calibrations for all types of dimensional devices used for quality control and industrial applications
Customized or standard calibration options for companies of every size
Geometric Dimensioning & Tolerancing (GD&T) services in our Fort Wayne and Toronto labs
Free Quotes for Pin Gage Calibration Services
For more information on calibration of pin gages, please use our Live Chat system, which is located on the right side of the page, our easy-to-use Request a Quote form, contact us, or call Transcat directly at 800-828-1470.