Height Gage Calibration Services
Do you regularly use a gage to verify that the heights of manufactured parts are within tolerances? Or do you use a height gage to scribe objects for machining? No matter your application, Transcat, your leading provider of dimensional test tool calibration services, offers accredited height gage calibration services to ensure that your vertical distance measurement device offers perfectly accurate measurements in any application. All gaging equipment must be regularly calibrated to confirm its accuracy for documented quality and customer requirements. If gage accuracy is not being verified, quality may be suffering and safety issues or financial losses could be the end result. Transcat knows the value you place on your measurements, which is why we calibrate height gages to the highest standards, helping to ensure quality in your products and processes.
Transcat's Height Gage Calibration Capabilities
We have a rock-solid foundation in calibrating height gauges of every type, as we provide world-class in-lab and onsite calibration services that are focused on your specific instrument and its applications. Our accredited, environmentally controlled calibration laboratories perform carefully developed testing procedures that have been specially designed by renowned metrology experts. You are assured of accurate results related to an international standard with known uncertainties. We ensure accuracy for all types of height-measuring instruments from a variety of manufacturers, like Mitutoyo Digimatic, Starrett programmable, Swiss Precision Instrument, or other forms of gages. Transcat can:
Provide ISO/IEC 17025-accredited and ISO 9001-compliant calibration services that offer true traceability to SI units through NIST
Deliver efficient, quality controlled calibrations, including detailed gage inspection for wear or damage that affects performance
Calibrate electronic, digital dial, Vernier and dial gages according to standard or customized specifications
Check more points along the instrument's range for a greater assurance of measurement accuracy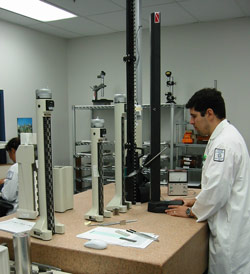 Dimensional Calibration Disciplines
You can rely on the availability of dimensional calibration services in many of our accredited calibration labs across North America. Plus, our Dayton, Ohio, and Rochester, New York calibration labs deliver reference-level capabilities for dimensional standards that cover instruments like ring gages and master setting plugs. With an unparalleled commitment to measurement and uncertainty control, our metrology experts perform every procedure according to stringent, uniform standards across every dimensional calibration lab. This means your height gage can be calibrated with the same superior quality in any Transcat location.
Accurate Calibration Services from One Source
Transcat is your trusted partner in achieving all types of tool precision. Each metrology professional in our calibration labs strives for total customer satisfaction, offering:
Services for a wide selection of gages, including height, plug, pin, and ring gages
Wide-ranging capabilities for calipers, tape measures, micrometers, and other precision hand tools
Geometric dimensioning & tolerancing and custom dimensional analysis services in our Fort Wayne and Toronto labs
A strategically positioned lab network, offering local tool transportation, as well as onsite calibration service opportunities for large or complex tools
Reliability in Height Gaging Instruments
For more information on height gage calibration, please use our Live Chat system, which is located on the right side of the page, our easy-to-use Request a Quote form, contact us,or call Transcat directly at 800-828-1470.