Digital Scale Calibration Services from Transcat
Companies, customers and inspectors need to know that equipment used in production and processing is delivering accurate measurements. A regular scale calibration schedule can support uptime, preventing crisis maintenance and ensuring compliance and quality. Depending on your quality system, the scales that are integral to your weighing systems will likely need service from an accredited scale calibration provider. If your digital or electronic scale requires traceable, accredited calibration services, Transcat's Scale Calibration Service can confirm device tolerances for the production line, laboratory investigation or field application. Our extensive expertise in quality management, risk mitigation and traceability verifies accuracy for the device that is part of testing, shipping, receiving, production, packaging, parts counts, and other processes. We calibrate a wide range of scales ' from basic to high-performance load cell models. You'll know that your weight, counts and totals are correct. Request a free scale calibration quote today!
What Separates Transcat's Scale Calibration Services?
In commercial applications, inaccurate weighing and counting can cause problems from legal issues to productivity glitches. That's why Transcat provides ISO/IEC 17025 accredited laboratory calibrations according to stringent quality standards. We calibrate bench, floor, portable, and all types of scales used in a full range of applications, with industry-customized scales' calibrations available. Whether you need service on one linear scale for milling or a number of large scales with indicators, you can rely on our proven reputation in the calibration of weight measurement devices. Our laboratories provide:
SI-traceable calibrations through NIST for electronic balance/scales and high-precision scales
Services for bench scales in a range of platforms and capacities according to processes that rigorously control accuracies and uncertainties
Extensive expertise for a full range of makes and models, including Rice Lake, Ohaus Scales and Mitutoyo
Calibrations driven by meticulously documented, internally monitored and externally audited quality management systems
Digital Scale Rental Services to replace out of service instruments or support project-based requirements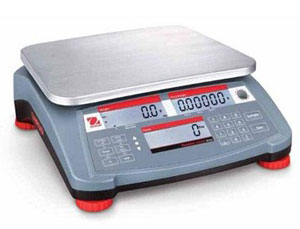 Flexibility in Scale Calibration Service
We understand that service needs are individualized. That's why we offer flexibility in how and where your accredited scale calibration is performed. Our world-class services step outside the laboratory during onsite and in-process calibrations, with options for these services to be tailored to the application or OEM requirements. Onsite options can be convenient for organizations that have heavy duty scales that cannot be moved or that need the device back in service quickly. Shipping can be easily arranged to one of our North American labs performing mass measurement services. Regional pickup and delivery is also available within 100 miles of the Transcat laboratory in your area. In many cases, instruments are ready for a return to service within five business days.
Extensive Mass Calibration Services
In addition to scales, Transcat labs are available to calibrate balances, load cells, proving rings, and weights in various classes
We offer competitive pricing on industry-leading services within the Mass Discipline including reference mass capabilities in our Philadelphia, San Juan and Southern California labs
Every Transcat lab adheres to the same quality system and processes, ensuring consistency across our wide-ranging laboratory network
Calibrating Scales for Precision Weight
For more information on calibrating scales, please use our Live Chat system located on the right side of the page, Request a Quote form, contact us, or call Transcat directly at 800-828-1470.