e2b calibration, A Transcat Company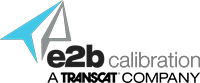 e2b calibration, a Transcat Company, was founded in the 1990's in association with Haitek Solutions, an ERP software developer. Since its origin, e2b calibration was driven to help customers enable technology, maximize profitability, and streamline operations in order to make critical decisions, build better products, provide better services, and exceed expectations.
After its acquisition in September 2022, e2b calibration joined the leading nationwide calibration services team at Transcat as its Transcat Cleveland Calibration Lab. The following services that you relied upon e2b calibration to provide are now available to you through Transcat.
Additional benefits of working with the Transcat Cleveland Lab:
5-7 day turnaround on most items
Pick-up and delivery services available in most areas
ANAB Accreditation audits include full assessment to ISO-17025: 2005 and ANSI/NCSL Z-540-1-1994
Standards traceable to NIST, equivalent national or international sources, or physical constants, as appropriate
Test Uncertainty Ratio (TUR) of 4:1 or better is typical
Records of the history of each calibration standard
Calibration tolerances based on manufacturer's specifications or customer requirements
Calibrated items labeled and the calibration access sealed where appropriate
Proactive customer notification for any out-of-tolerance conditions discovered in our in-house asset calibration recall system
For detailed information on the full suite of calibration services available from Transcat, click here.