Centrifuge Validation Services
We provide centrifuge validation services for bench, floor and portable devices that serve regulated and non-regulated industries. Our technical expertise united with advanced, NIST-traceable instruments to ensure equipment compliance. Prior to the service, Transcat's skilled technicians will develop validation protocols based on your unique requirements, or we can execute the existing protocols within your quality program.
Following validation of the centrifuge, you will receive a comprehensive documentation package. Accurate testing results will prove that your centrifuge is performing within your operating procedures and cGMP regulations. The detailed testing data also prepares your organization for an audit.
Qualifications for Centrifuge Devices
Centrifuges utilize high-speed rotations and centrifugal force to separate substances, such as liquids from solids. As part of the validation process, Transcat can perform an IQ, OQ and/or PQ.
An IQ will provide assurance of proper centrifuge installation
The OQ shows that operational specifications are met consistently
A PQ verifies consistency in meeting performance requirements
The OQ and PQ centrifuge qualifications help to ensure that substances are being correctly processed during manufacturing or laboratory research. The overall validation process could also include verifying if a unit's functions (e.g., rotational speed) are in line with your performance objectives.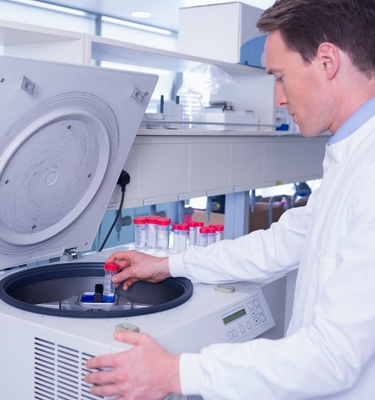 Validations for Regulated Industries
When Transcat conducts validation testing, it is done with an eye toward your production schedule and minimal equipment downtime. We understand the centrifuge's role in critical processes and regulated applications. Our teams arrive with the expertise and equipment to validate your centrifuge to the highest standards, in order to fulfill your regulatory or organizational requirements. For detailed information on a centrifuge validation, request a quote from Transcat today.